NEW Godzilla The Salesman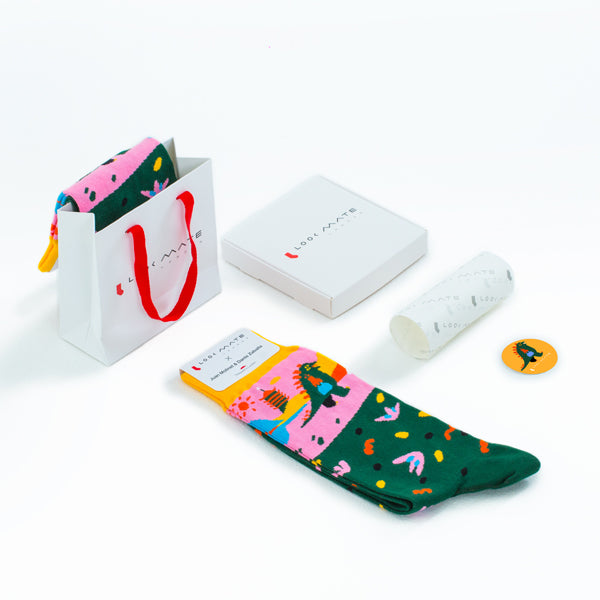 Supplied in an iconic Look Mate gift box
Designed in London 
In collaboration with artists and graphic creatives
Crafted from the finest combed cotton available
Longer, over the calf design 
We weave our socks with 200 needles
Fun and cool design to compliment your personality
Godzilla The Salesman. 
by Dante Zaballa & Juan Molinet

Some say he is a salesman in Tokyo, some say he is carrying secret documents in his briefcase. We are in love with this pair and it will not be long for Godzilla socks to become your favourite pair of Look Mate.  

Designers.
This design was inspired by a short animation created by 
Dante and Juan, You can watch it here https://vimeo.com/304156637 
"Based on a real conversation between me and director Dante Zaballa before leaving Japan after an amazing trip through the country. Mixed up memories about our visit to Tokyo, Hiroshima, Miyoshi, Naoshima and Kyoto." 
Direction Dante Zaballa -Design: Juan Molinet, Dante Zaballa -- Music: Skillbard

Bio 
Hi, My name is Juan Molinet, I'm an Argentinian illustrator based in Berlin, currently working freelance.​​​​​​​
I studied graphic design at Universidad de Buenos Aires before I moved on to work for production companies for several years as a character designer, illustrator and art director, and eventually as a freelance visual artist working worldwide.
I like rubberhose animation, food, robots, history, kaiju, pop-culture, seafood, mid-century illustration, and traveling.
Materials
Crafted from the finest combed cotton available.
85% Combed Cotton, 12% Polyamide, 3% Elastane
Delivery 
UK Standard 2-4 days / £2.00
Europe 5-7 days / £4.00
USA / Japan 7-10 days / £6.00
The Rest of the world 7-14 day / £6.00