Tiger Socks by HEDOF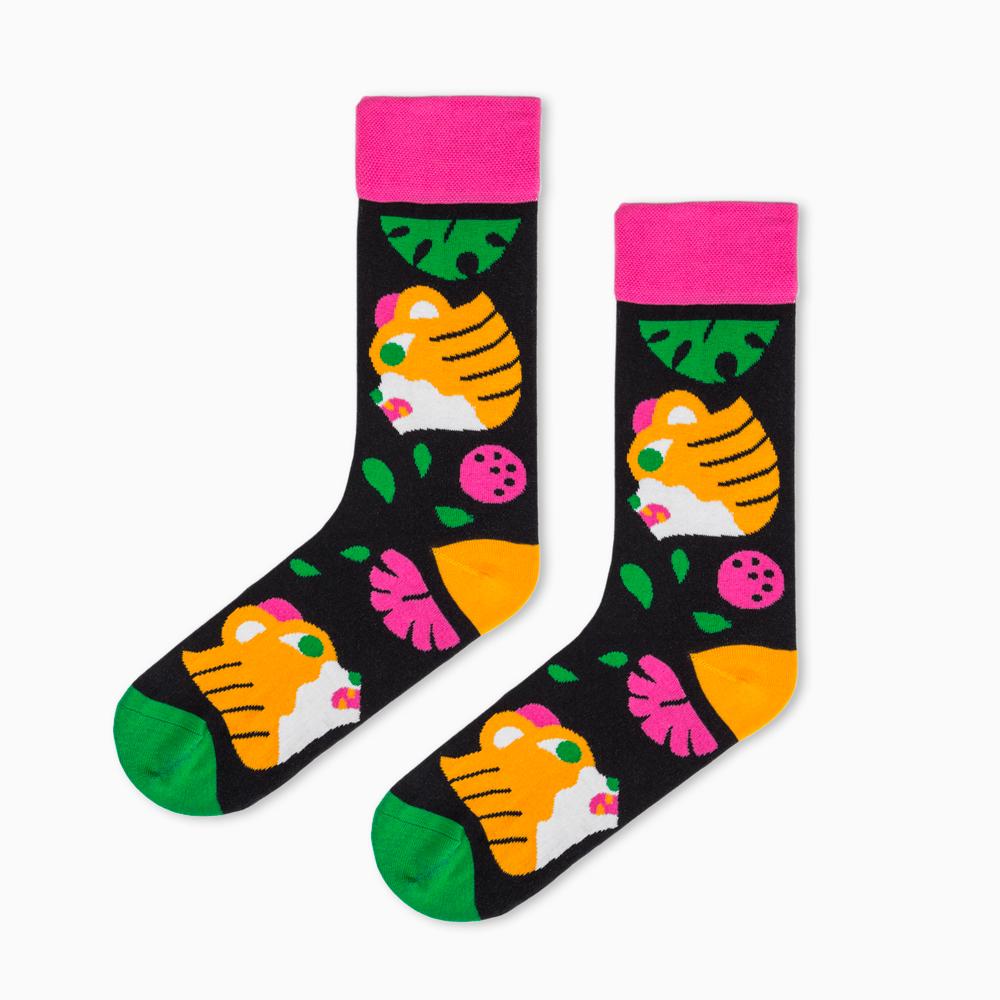 Supplied in an iconic Look Mate gift box

Designed in London 

In collaboration with artists and graphic creatives

Crafted from the finest combed cotton available

Hand finished in a small family-run factory

Longer, over the calf design for a comfortable fit

We weave our socks with 200 needles

Fun and cool design to compliment your personality
Tiger Savers: Since we launched Look Mate We have celebrated great design, innovation and energised collaborations with top creative minds. Today we bring tigers into the equation. We teamed up with Designer HEDOF for WWF's Tiger Conservation Campaign.
 Since last century we lost 95% of this iconic species in the wild. Last year first time in decades the population of tigers increased and WWF still have an ambitious target to double wild tigers numbers to at least 6,000 by 2022, the next Chinese Year of the Tiger.
 This is our baby steps to contribute to this project. Last week we raised and donated £180 and we will continue to donate 20% of tiger socks going forward.
 Wear Tiger Socks by Hedof, raise the awareness of WWF's Tiger goals and look effortlessly cool.

About The Designer
 Rick Berkelmans' (1986) work consists of a vibrant mix of strong shapes, weird characters and bold colors. Never being too much in your face, Berkelmans always makes sure his work is packed with a certain attitude, casual but clever, tactile but professional. The distinctive touch to his work is Rick's love for printing techniques, which combines his fresh illustrations with a nice vintage look.
 Rick lives and works in Breda where he runs his oneman design studio Hedof. With a combination of commercial projects and exhibitions he raised his profile on an international level.
 Clients include The New York Times, Anorak magazine, Computer Arts Magazine, Heineken, Nickelodeon, Kangaroos, Sony Playstation, Lipton Tea, The Hoxton Hotel, KLM Airlines, Ikea, Native Shoes, Appelsap Festival, Google, Red Bull, Red Cross, Zwijsen, Green Man Festival, Arte, S7 Airlines and Facebook.
The Inspiration behind the "Tiger Socks"
 Awesome idea to raise money for WWF, I am very involved in the environment and the future of this planet and all its beautiful nature. So let's do this. For the design, I wanted to portray something "cool" and "fierce" on the socks, a little something that is hidden most of the time but every now and then you see a flash of the tiger that boosts your mood and feeling. I wanted the socks to be black, but I couldn't resist throwing in some awesome bright colors, this just adds so much personality to both the socks and the person wearing it. I wear yellow and pink socks all the time and my friends make fun of me but it is a little detail that shows who I am and I feel confident to rock some cool pink socks.
Materials

Crafted from the finest combed cotton available.
80% Combed Cotton, 17% Polyamide, 3% Elastane
Delivery 
UK Standard 2-4 days / £2.00

Europe 5-7 days / £4.00

USA / Japan 7-10 days / £6.00

The Rest of the world 7-14 day / £6.00